Acquirelists append solutions easily integrates with CRM's like Salesforce.com and Microsoft Dynamics
You've built a good database of your customers' and prospects' direct mail information. Now you want to start marketing to them via the Web, but you don't have their email addresses. Add current, permission-based email addresses to your database of business prospects. Acquirelists email appending services can provide accurate deliverable e-mail addresses, we guarantee the emails are deliverable and you only pay for confirmed emails. Our B2B email appending service finds deliverable business email addresses for up to 80+% of your corporate postal records.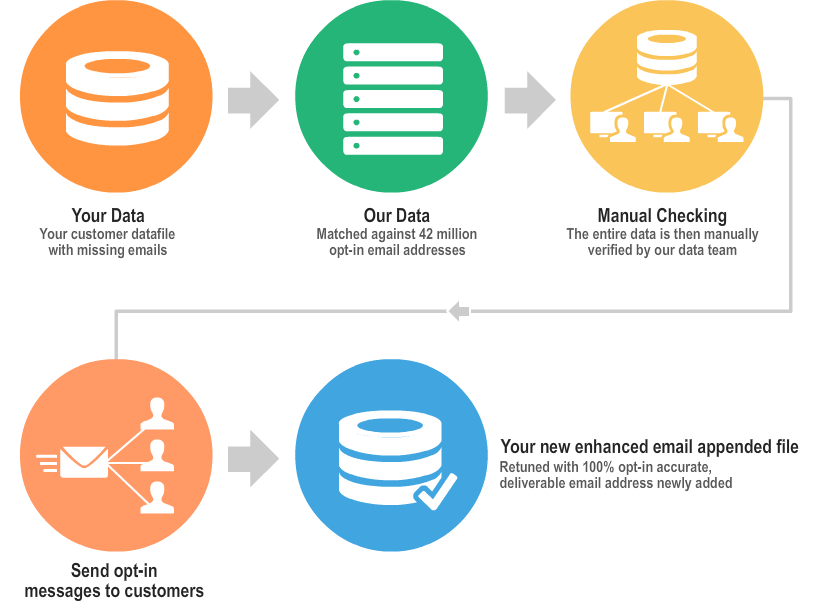 Business email appending is a powerful service that increases Customer Retention goals.
By appending email addresses to your customer database, you can expand your marketing options and receive tremendous customer communication benefits. Through our tried and tested Email Appending service, we can help you add active email address, title, telephone and fax numbers, etc.. to your established clients/prospects lists. Acquirelists will allow you to build your online customer database by giving you your customers most current email address.

Your entire organization can benefit from our B2B data services: Marketing departments use various B2B data services to understand customer demographics, better target messages, and to find better prospects. Sales departments use B2B data services to gain insight into their top sales prospects to help them close more sales. Accounting departments use B2B data services to reduce credit risks. To complete all requests, Quick Data Services consultants match your records to our comprehensive business database of over 42 million U.S. records.