Data Hygiene Services
Acquirelists offers Data Enhancement and Data Hygiene Services solutions exclusively for B2B companies. Acquirelists has created a suite of data hygiene and Data Enrichment services, designed to provide you with the most up-to-date, deliverable data available.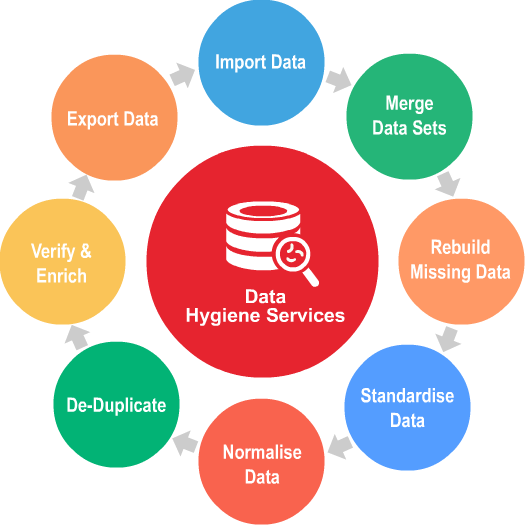 Our Data Hygiene services include:
List Cleaning
Email/data appending
NCOA Move Updating
List Standardization
Enhancement / Appending
Address Standardization
Telephone/Area Code Update
List Profiling & Data Enhancement/De-duplication
Merge and Purge
Data Scrubbing And Mailing List Cleaning Services
Data protection
Outsource your list management services to Acquirelists - Reduce Cost, Complexity and Risk
Secure e-mail list: The e-mail addresses of your customers are stored within a secure SQL Server database
Subscriber filtering: Subscribers can be filtered against the opt-out list to prevent re-importing a subscriber who has opted out in the past.
Automated tracking/filtering of bounced e-mails. E-mail addresses can be removed after a specified number of bounces.
Reduce list management cost by 65%
Strict data confidentiality
CAN-Spam compliant
350+ data specialists
Quality service with quick turnaround
Data Integration/ Data quality / Lead distribution
Let us help you
Understand your client base - identify valuable customers and improve retention.
Qualify prospects -focus efforts by pinpointing your most promising targets.
Boost campaign response rates - increase the relevancy of offers, delivery channels and timing.
Cut costs - reduce list rental expenses and focus exclusively on well-defined targets.
Deepen relationships - use predictive models to cross-sell, up-sell, and add-on or reactivate accounts more effectively.
No matter what shape your data is in, we'll quickly identify, prioritize and resolve the issues that keep your marketing initiatives from moving forward.
Email Update (also called ECOA or Email Change of Address):
Like many marketers, you have a robust email database, but lose around 30% of your email addresses per year because of bouncing emails. By using Email Update Service, your invalid email addresses are updated with a new deliverable email address for the same customer.
List Management:
Acquirelists provides full service list management. Through enhancement and positioning, we can immediately improve your list rental income. Our experienced data management team will keep your data secure and provide quality fulfillment services.
Database Enhancement:
Gain greater insight on your customer database by adding demographics and phone numbers.
List Services:
Full service List Management, List Brokerage, List Rental, and Licensing.