Targeted Email Lists
Targeted Email Lists for your Email Marketing Campaigns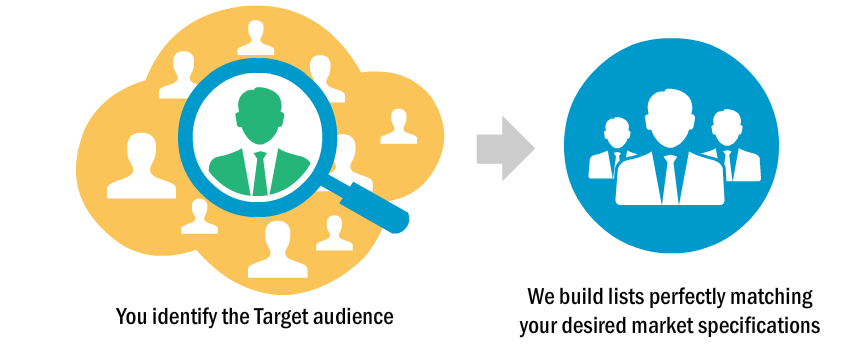 Acquirelists offers targeted email address list compilation services based on your keyword target criteria. This service will allow your business to specifically pinpoint its target market providing you with precise email lists to promote your business or product. We have helped companies build business by supplying highly accurate and targeted contact information in key markets (Sales and Marketing, Information Technology, Personnel, HR, Training, Corporate Finance Manufacturing Industry, Pension Funds etc). Our aim is to provide all our customers with the most accurate business information available in any format you require. At AcquireLists, we ensure that the information we provide is as up-to-date and detailed as possible. All of our business contacts are collected through rigorous stages of questionnaire and telephone research. This data is then regularly and carefully updated throughout the year.

For example:
IT/IS/MIS Professionals
Comprehensive targeted contact lists of over 900,000 IT, IS, MIS executives and managers within the top within the top US manufacturing corporations, financial services institutions, pharma and medical devices corporations, higher ed organizations and government institutions.
Medical Equipment Sales Industry
We can compile highly targeted email lists of medical doctors, surgeons, & dentists interested in what you have to offer.
Pharmaceutical Companies
Fresh lists of Pharmacists can be assembled, cleaned and made available for contact.
Insurance Sales or Mortgage Refinancing Companies
Geographically Sensitive Businesses - We can put together comprehensive targeted emails lists based on a specific city or from an entire state.
List Selections available
Industry: Higher Ed, High Tech, etc.
Job Functions: CIO, VP, Sales,Manager, Webmaster, etc
Geography: CA, MA, AL, etc.
Number of Employees
Revenues

Some of the Decision Makers list available
IT Decision Makers
Sales Decision Makers
Marketing Decision Makers
C-level contacts
HR Decision Makers
Finance Executives
Operations Decision Makers
CEOs and Presidents
Lawyers and Attorneys
Real Estate Agents and Brokers
Mortgage Brokers
Physicians
Frequent Travelers/Hotel Guests
Research Professors and Scientists
Librarians
R&D Decision Makers
Nurses
Property Management Decision Makers
Insurance Agents & Brokers
CPAs
Dentists
Contacts in Religious Parishes
Creative, Printing and Advertising Decision Makers
Decision Makers at Venture Capital Firms
Engineering Decision Makers
Non-profit Executive Directors
Purchasing, Sourcing, and Procurement Decision Makers
Customer Support and Help Desk Decision Makers
Architects
Canadian Certified Financial Planners (CFP)

Key Facts
Over 30 million accurate business contacts in Human Resources, Marketing, Sales, IT, Training, Business Development, Finance, Pensions, Design etc
Search by job title, geography, industry, company size, employee size
No minimum order
Free Quotation Service