Email Append provides instant access to your most lucrative audience. Expand your Customer Relationships by communicating with them via email. We match email addresses to your existing customer databases, and opt them in to receive future communications. It is easy and cost-effective, and can have an immediate impact on sales.


EMAIL APPENDING PROCESS
Step 1:
The client identifies the records in its internal database that need Email Appending. Once identified this database is sent to AcquireLists via email or FTP Upload. The database can be sent in any format, our team is equipped to handle all kinds of database formats. Once uploaded, the database is picked by AcquireLists for processing.
Step 2:
Once received by AcquireLists, database is formatted so that it can be matched with our Master Database of 30 million Business records with opt-in emails. During the matching process, whenever there is match found with the name, business name and address in the clients database, the corresponding email is added from our master database to the client's database and this process will continue till the last record.
Step 3:
After the match process is over, the appended emails are verified for delivery. The verification process is semi-automated. With the help of our proprietary tools we verify all the mails for deliverability and again our 200-member data team will manually verify each appended emails. So our average match rates are over 80%.
Step 4:
At the completion of the append process step a standard message is sent to the newly appended emails indicating that the append client wishes to communicate with them via email. This email gives the recipient the opportunity to opt-out if they choose. After allowing 5-7 business days for all responses, the opt-outs are removed from the database.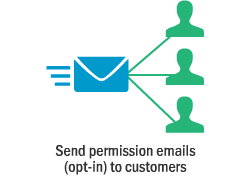 Step 4:
Upon the successful completion of the append process, the enhanced database is then reformatted to the original file format and it will be delivered to the client. We are one of the few companies that truly execute the standardization and customer email append in-house. By controlling the entire email append process inhouse, we endow our clients the rapid turnaround, quality control and accountability they entail.